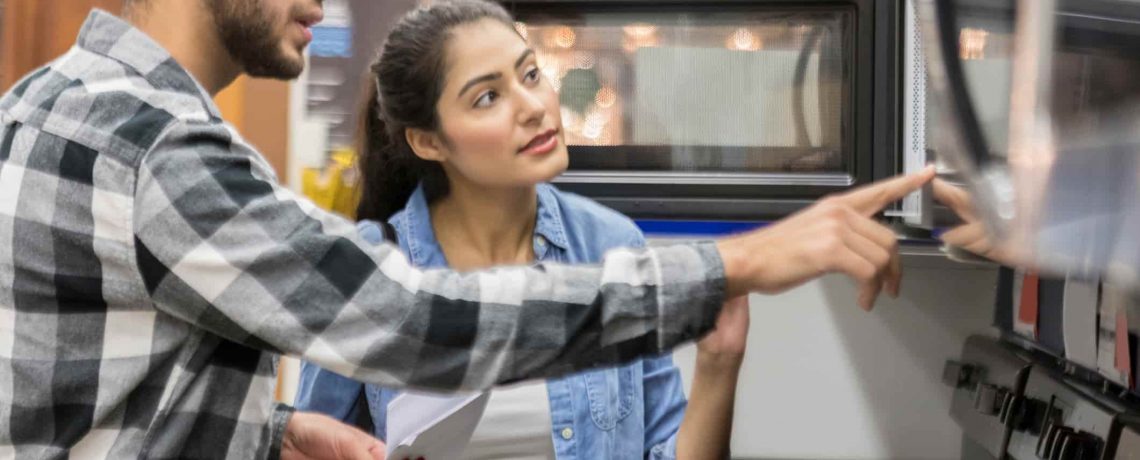 As your purchasing power grows, so does your spending responsibility. As a consumer with disposable income, it can be difficult to separate actual needs from wants disguised as necessities. If you're not careful, small purchases of nonessential items throughout the year can quickly add up and get you off track from your budget.
Retailers are excellent at making their products and services seem essential to everyday life. Buy now, pay later payment options saw significant growth in the 2010s due to the popularity of online shopping, and these deferred payment options aren't looking to slow down anytime soon.
While this option may seem like a good solution for purchasing items without cash on hand, pay-later purchases can quickly get out of hand if you don't have a solid plan. If you're in the market for a big-ticket item and have been considering whether or not you should buy now and pay later, you're in the right spot.
Let's dive into how to define a big purchase, determining needs versus wants and the best way to pay for those high-dollar buys.
If you need a better banking relationship with experts who can help you track your spending and savings, check out the banking services available from Community Point Bank.
What Is a Big Purchase?
There are several ways you can define a large purchase. Here are three questions to ask yourself.
#1. Is It a Product That People Normally Finance?
There are some worthy and necessary purchases that most people will inevitably need to finance. Some examples include:
A house – While not impossible, buying a house with cash can be difficult, especially if it's your first home. Buying a home is one of the biggest purchases you will make in your life, so it's something you will want to budget for carefully. It's essential to know about the

different types of home loans

to understand how much you will pay each month.
Postsecondary education – While you might be fortunate to have some savings set aside

for school

, you may still require some loans to complete your postsecondary education or vocational training. Your education is an investment in your potential future earnings and will likely be one of the biggest expenditures you will make in your lifetime, other than purchasing a home.
A car – A motor vehicle is a significant cost that may

require an auto loan to obtain

. Much like a home, if you finance a vehicle, you want to ensure the monthly payment fits your budget.
#2. What Percentage of My Monthly Income Will This Purchase Take
When considering large purchases that you may encounter, many financial experts recommend using the 50/30/20 budgeting rule. This rule allocates 50% of your monthly income to necessities and 20% for savings, leaving 30% to use for other expenses. If the item you are considering buying exceeds that percentage of your income, it should be regarded as significant.
#3. Does the Purchase Amount Surpass a Predetermined Limit?
For some, budgeting with a spouse or sharing your financial plans with a family member or friend often makes it easier to limit spending due to the accountability you have to them.
If you share a bank account or work with a friend to meet your financial goals, you'll most likely set a purchase amount as a limit for "big purchase" items. If you are considering a purchase over that limit, you can talk through the payment options with your accountability partner and make sure the purchase makes sense.
Payment Options: Finance or Save?
Do I Need It or Do I Want It?
The first thing you need to establish when making a significant purchase is if the product or service is a want or a need. While there are many levels to determining wants and needs that we can't fully break down in one article, we can use a few factors to define these two categories better.
Needs
Necessary nutrition – Your basic groceries are always a necessity.
Basic clothing – Proper attire for work and a few pieces of casual attire are important to have. You may also need an outfit or two for more formal occasions.
Reliable transportation – Most people need their own transportation to go to work and run essential errands. Additional costs include maintenance, repairs, necessary insurance and gas.
Safe living space – Having a place you can rest your head at night is a necessity. Outside of regular rent or mortgage payments, repairs and large home appliances to take care of household chores are essential.
Wants
Personal electronics – While you may have to use a phone or computer for regular work or to complete essential daily tasks, many personal electronics still fall into the wants category. If the electronic you are looking to replace can still tackle your regular workload, the purchase is a want. 
Luxury goods and clothing – Any item of clothing beyond the items listed above, or at excessive price points, would fall into the want category.
Trips and

vacations

– While it's essential for us to take a break every now and again to be at our best, a long-distance trip to a premier destination falls into the want category.
Personal Loans & Credit Cards
A personal loan or credit card may be an option when it comes to making a big purchase. However, it's important to remember that these options come with interest, which increases your overall cost. If the substantial purchase you're considering falls into one of the aforementioned "need" categories, a personal loan or credit card may be the best route, as it will give you quick access to the finances you need.
You can also use a personal loan or credit card for a large purchase to build up your credit score. However, you want to be intentional about your purchase and pay off your debt on time.
If the retailer offers financing, be sure to ask about the payment terms and interest rates. An offer may initially sound enticing but can quickly lose appeal after you hear about the interest rates. Always try to calculate the total amount you will pay.
It's essential to use either of these payment methods responsibly. Working with a local bank to borrow for a big purchase is a great idea, as their knowledgeable team can help educate you on the terms of your agreement.
Save Up and Pay In Full
Any item that falls into the "want" category is something you should try to save up for and pay in full. Why? It helps you regain more control over where your money goes each month. Putting money away in a designated savings fund can help you keep track of the cash and minimize interest payments.
Start Saving Better, Spending Smarter and Moving Toward Financial Success Today
No matter the purchase size, work with a bank that can help you move toward financial success. Community Point Bank offers a wide array of services that can help you track your savings and spending. Our staff is knowledgeable and wants to help you bank better. Check out our full list of services, apply for a new bank account or visit a location today to learn more.