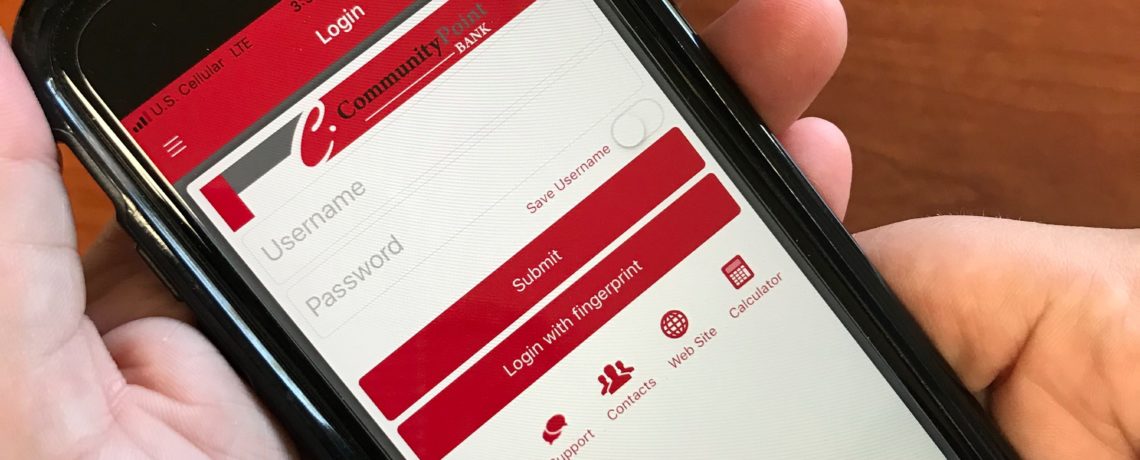 Online Banking Information
Community Point Bank is happy to offer free online banking services to our clients and customers. With our internet banking capabilities, you can take advantage of many of Community Point Bank's personal banking services while on-the-go! From online bill payments to mobile check deposits and transfers, our platform provides the convenient technology that allows you to bank when you want.
Contact us by phone or online today to apply for this free service. You can also download and complete a PDF application and drop it off at your nearest CPB location to finalize the enrollment process. If you already have an Online Banking account with us, please sign in using the Online Banking portal on the left sidebar menu.
CPB Mobile Banking App
Community Point Bank account holders can conveniently access their bank account balance information, transfer funds and make bill payments anytime and anywhere through their Apple® iPhone® and iPad® or Android smart devices.
Users must first be signed up for the Community Point Bank Online Banking program in order to access their account information through the app.  Contact your nearest Community Point Bank location for more information on signing up for our online banking services.
Once you have fully enrolled, downloading the app is quick and free. Just search for "Community Point Bank" in the Apple App Store or Google Play store or click one of the red links below from your mobile device to automatically open up the app's download page. If you need additional assistance, please feel free to call any Community Point Bank branch.
CPB Mobile Check Deposit

Community Point Bank mobile banking users now have the option to make check deposits using their mobile device camera. It's a snap!
The mobile deposit services allow users to make deposits to checking, savings or money market accounts from wherever you happen to be. By capturing an image of your check using your smart device, you can use our mobile deposit platform to deliver the images of your check and the associated deposit information straight to the bank with ease.
If you have additional questions or would like to get started with these convenient services, speak with one of our helpful representatives today!
Debit Card 
Do you prefer the ease and convenience of a debit card for your everyday purchases? Community Point Bank offers Mastercard® debit cards to help speed up your payment process.
View Master Card® Guide to Benefits
Report A Lost or Stolen Debit Card
Please call Community Point Bank immediately if you believe your debit card has been lost or stolen. After business hours, contact Shazam directly at 1-800-383-8000.
Shazam® Privileged Status

We are pleased to announce that you can now enjoy expanded ATM access with no surcharge fees!
Recently we joined the Privileged Status® program, a group of independent, community financial institutions, to provide you with a no-surcharge guarantee. Click for additional details.
Identity Theft Resolution Services
Did you know that MasterCard® debit card benefits include Identity Theft Resolution Services at no additional costs?  To learn more about this valuable benefit, including how to set up identity theft alerts, please call 1-800-MC-ASSIST (1-800-622-7747) for more information. To request a printed guide to benefits, call 573-782-3881.


SHAZAM BRELLATM Mobile App

Shazam debit card users can access balance information anytime through their Apple® iPhone®, Android device or personal computer with the SHAZAM BRELLATM Mobile App. This mobile allows the cardholder to set alarms that alert the user to any suspicious or unusual charges made on their card.  If a transaction occurs that meets the alert criteria, the cardholder will receive a SHAZAM BrellaTM notification so they can take quick action if the transaction is, in fact, fraudulent.
Our Shazam BrellaTM app also allows cardholders to block and unblock their own debit cards.  Cardholders can pause the use of their card with the quick tap of a button without affecting their previous transactions if their card is stolen or goes missing.
The transaction control feature also allows for transaction level blocks such as:
Transactions over a specific dollar amount
Internet and phone transactions
Transactions outside of the U.S.
This fast and simple security feature increases safety when using your debit card. It not only gives cardholders peace of mind, but also saves them the hassle of updating automatic payment information. This enhancement to SHAZAM BrellaTM makes this app a must have for our cardholders.
Download SHAZAM BrellaTM for free from the Apple App Store, Google Play story or by logging into brella.shazam.net.
Click here for more instruction on downloading and using the Shazam BrellaTM app and setting up debit card alerts.
Digital Payments Options
In addition to your debit card, Community Point Bank has added more options for processing your contactless digital payments using your smart devices. We now offer Apple Pay, Samsung Pay, Android Pay and Microsoft Wallet options for your convenience. Contact us for more information or for assistance on this new technology.
ATM Locations
The use of Community Point Bank ATMs is free with a Community Point Bank debit card.
Our Russellville ATM is located on the east side of the bank, in the driveway.
Our Eugene ATM is located in the outside lane of the bank's drive-up window.
Our High Point ATM is located in front of the Bee Line Snacks Shop in High Point at the intersection of Hwy 87 & Rt C.
Our Brazito ATM is located inside the JNJ Liquor & More store on Hwy 54 in Brazito.
Our Versailles ATM is located on the east side of the Versailles bank facility.
Ordering Checks
Customers can choose from these simple ways to reorder their personal checks.
Call Deluxe directly at 1-877-838-5287.
Order your checks online using the button below.
Mail or bring your reorder slip to the bank. We will take care of the ordering for you.
Visa

®

Gift Cards
When you're in need of a gift for that hard-to-buy-for friend, graduate, parent or newlywed couple, a prepaid Visa® gift card is a great option for any special occasion including birthdays, anniversaries or weddings! Available all year long, our Visa® gift cards can be used wherever Visa® is accepted. Pick up a gift card at any Community Point Bank branch today.
Credit cards
Your Bank. Your Card.  Community Point Bank now offers MasterCard® credit cards.
Everything you need on one convenient card.
No annual fee
Low introductory rate
Exceptional benefits
Flexible Rewards
It's the only card you need for everything you need to do.
Ask us how to apply today.
Safe Deposit Boxes
Safe deposit boxes are a great place to stash your important documents and small valuables. We can even provide you with a personal log to list the contents of your box for reference at home.
Safe deposit boxes – ranging in size from 3×5 to 10×10 – can be rented based on availability.
Stop in at our Russellville or Eugene branches today to find a safe deposit box to fit your needs.