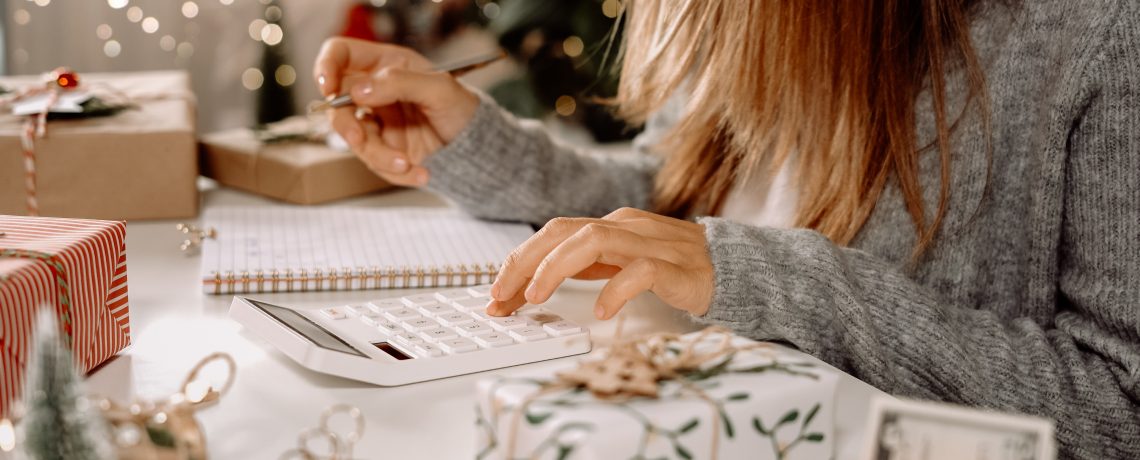 Just as you toss out the last bit of leftover turkey and mashed potatoes from your Thanksgiving dinner, songs, movies and advertisements hit the airwaves to let you know it's the most wonderful time of the year. If you aren't prepared, this quick turnaround to another holiday can snowball into an avalanche of stress. Unfortunately, seasonal stress steals the joy associated with the holidays for many. But what causes all of this strife during Yuletide?
One survey found that 44% of respondents felt stressed during the holidays. A few of the most common stressors include:
Being over-scheduled. The holidays bring forth an opportunity to participate in events and visit with family you might not otherwise see during the year. However, an influx of commitments can reduce your rest and time to take care of yourself.
Trying to stay healthy. Many of these aforementioned social events can include a plethora of unhealthy foods.

 

Financial burdens. Finally, we reach the main topic of today's discussion: financial troubles and overspending. Out of the 44% of the survey respondents who said they were stressed, half attributed their stress to financial woes.

 
While there are a variety of expenses to cover during the holiday season, many financial woes are based on buying gifts. The National Retail Federation projects that Americans will spend an average of $832 this year, with national spending reaching anywhere between $942 billion –  $960 billion These big numbers may leave you wondering, "how much should you spend on Christmas?" 
Keep reading to learn more about how much you should spend and how to gift like a pro.
How Much Should You Spend on Christmas Gifts?
While shopping lists and exact budgets can vary per household, some personal finance experts recommend spending no more than 1.5% of your gross annual income on Christmas gifts.
According to the U.S. Census Bureau, the median household income was $70,784 in 2021. One-and-a-half percent of this figure is around $1,060. This surpasses the average projection of $832 mentioned earlier. However, if you haven't saved any cash for your holiday purchases over the course of the year, the seemingly small 1.5% of your annual income becomes over 18% of your monthly earnings. 
A lack of preparation can make utilizing a credit card tempting, as you can delay the final bill until after the holidays. If you are considering this strategy, you aren't alone. One report found that 42% of Americans expect to go into debt to pay for the holidays. 
While responsibly utilizing a credit card can help you build your credit for a better financial outlook, piling up large amounts of debt will only add to your post-holiday blues (and possibly lower your credit score). So, what should you do if you haven't saved up? 
Christmas Spending and Gifting Strategies
Giving a loved one a Christmas gift is a special moment you can enjoy regardless of your budget. There are a few things you can do to stay on track and avoid overspending. For more in-depth information on creating a holiday budget, check out our article, "5 Foolproof Tactics for Sticking to Your Holiday Shopping Budget." 
Set Your Spending Limit Before You Start Shopping
If you're behind the eight ball on your Christmas funds, don't run headfirst into your shopping. Make sure you have a set spending limit before you open your laptop lid or open the store door. Create a master list of everyone you plan to get gifts for and the total amount you can spend after bills and necessities. Then, you can begin to allocate funds for gifts.
Focus on the Kids, and Don't Be Afraid to Get Creative
If the budget is tight, focusing your funds towards gifts for the kiddos first is a great way to make sure you get them a present they will cherish. Remember, the best gifts aren't always trending or expensive. Some of the most memorable presents are items that nurture their curiosities and stimulate their minds. Lean into their interests and encourage activities they enjoy. 
As far as the adults go, it's dependent upon your family traditions and what you have agreed to exchange. With one study showing over 70% of Americans feel like Christmas is too focused on spending, your friends and family will likely understand if you would like to reduce or eliminate your gift exchange. This can take the pressure off of finding more gifts and allow you to enjoy socializing and spending time together. 
Move Your "Fun Money" Over to Your Christmas Shopping
If you have a monthly budget, you probably have a category dedicated to "fun" spending, which includes dining out and entertainment. Preparing a few more meals at home or otherwise moving some of your "fun money" to gift spending can help boost your Christmas budget.
Start Saving for Next Year's Christmas
After the last shred of wrapping paper hits the floor, it's time to start saving for next year. Check out the Community Point Bank Christmas Club savings account for a great savings option. To learn more about our banking offerings, visit our services pages or get in touch with a knowledgeable team member from one of our locations.