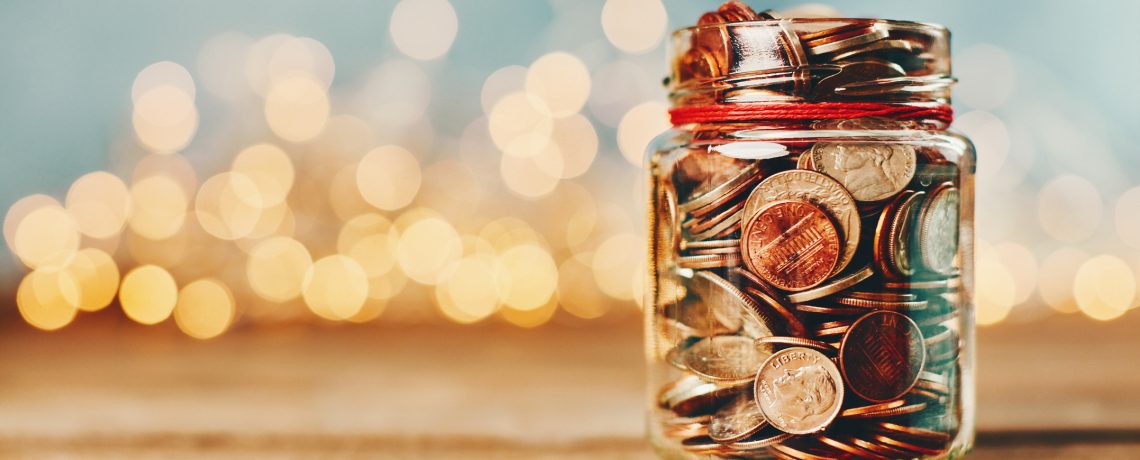 Saving for the holidays can be challenging, especially if you're a generous gift giver. Why not open a Christmas club account so the money's there when it's time to summon your inner Santa?
In a perfect world, you'd tuck some cash into a pouch at the bottom of a dresser drawer each month and then tap your holiday reserves at the end of the year. But maybe you miss a couple of months or occasionally borrow from your stash when you need a few bills. Before you know it, your holiday fund can barely cover any gifts.   
Your Christmas savings plan might have a better chance of success in a savings account at your bank—more specifically, a Christmas club account. Going this route allows you to set up automatic deposits, earn interest and withdraw your earnings right before the holidays. You'll also be less tempted to treat your fund like petty cash.
If you're curious to know more about Christmas club accounts and how they work, then settle in. We'll answer all your questions about these handy holiday budgeting tools and even touch on their historical roots. They're nearly as old as Ford's Model T!     
How does a Christmas club account work?
Many community banks and credit unions offer Christmas club accounts, which are a lot like traditional savings accounts. There's typically a minimum balance required to open them, and they accrue interest based on the APY set by the institution. As with other savings accounts, customers can arrange for money to be regularly deposited into their Christmas club account from their checking account.  
Christmas accounts, however, are meant to be cashed out each year to give you a little extra scratch for the holidays. Most of these accounts have a maturity date in late October or early November. That way, you have plenty of time to place those online orders and get your shopping done before the big day arrives.
There's one major difference between a savings account and Christmas club account, though. In the spirit of leaving your holiday fund untouched, you can't withdraw the money before the maturity date. Most banks assess an early withdrawal fee and may even require you to close the account. Now there's an incentive to leave that kitty alone! 
How long have Christmas club accounts been around?
Pennsylvania has some notable accolades on its resume. It was the first state to abolish slavery, and the Declaration of Independence was famously written and signed in Philadelphia. The Christmas club concept also got its start in the Keystone State.
The first Christmas club was born in 1909, when the Carlisle Trust Co. of Pennsylvania received a request from local shoemaker John Linder to create a holiday savings program for his employees. The program started in December and ran 50 weeks. Account holders deposited 1 cent the first week and then increased their deposits by a penny every subsequent week. On the last week, they deposited 50 cents for a total of $12.75 to put toward Christmas gifts. That's about $384 in today's dollars.
Salesman Herbert F. Rawll acquired the rights to the business model in 1910 and began selling it to banks all over America under the Christmas club banner. An article Rawll wrote in a 1925 issue of American Banker magazine speaks to the staggering popularity of the Christmas savings account. That year alone, more than 7 million Christmas club members at 6,800 banks had saved $314 million using the accounts. In addition to buying gifts, club members used the money they'd socked away to pay insurance, taxes and mortgage interest. 
Early Christmas club advertisements offer a nostalgic glimpse into how banks marketed what was viewed as an exciting new way to set aside head-earned dollars for the holidays. "1,200 families are being made happy this week by Santa Claus checks," proclaimed a 1917 ad for a North Carolina bank. As Christmas club savings accounts evolved, banks began to issue coupon booklets to help customers keep track of their savings. Tellers would stamp the coupons every time a customer visited the bank to make a deposit. 
Reasons to open a Christmas club account  
Beyond the obvious Americana appeal, there are plenty of other reasons to open a Christmas club account at your local bank. Sure, there's a certain throwback appeal to holiday savings accounts, but what made them practical decades ago still makes them practical today.
Here's why you should consider opening a Christmas club account:
Higher APY

– Most banks and credit unions offer a slightly higher interest rate on Christmas club accounts than traditional savings accounts. It may not amount to much, but everyone likes a little extra gravy around the holidays.

Avoid credit card debt

– When it comes to planning and paying for holiday expenses, Christmas club accounts are a time-tested strategy. The money is in the bank, as they say, so you won't be tempted to break out the credit cards.

Holiday debt

hit a six-year high in 2020, clocking in at nearly $1,400. 

Prices are trending upward

– Christmas spending has been steadily increasing in recent years, with Americans spending almost $790 billion on

holiday shopping

in 2020. Inflation is also rising.

Consumer prices

are up 5.4% from a year ago—the highest year-over-year increase in 13 years. Set aside money—and more of it—in a Christmas club account.

Make it an annual thing

– Some banks that offer Christmas club accounts allow you to automatically renew your account and resume regular deposits after you withdraw your spending money each year. Keep the holiday savings cycle going, and you'll never have to worry about scrounging up the dough late in the year.  
Community Point Bank proudly offers Christmas club accounts to customers. Contact us to learn more about account specifics, including the current APY and maturity date. It's never too early to start saving for the holidays!