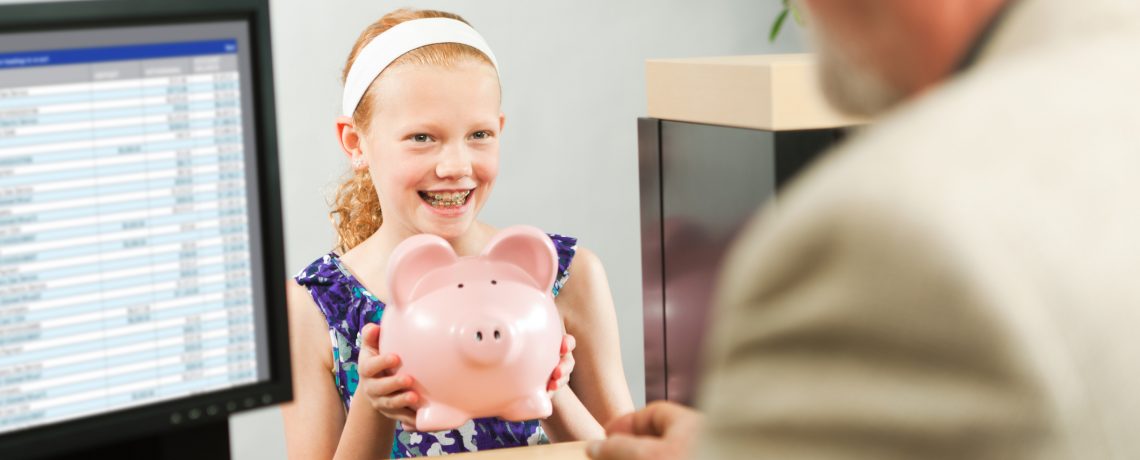 Life lessons are a big part of parenting, and one of the best tools for teaching financial literacy at an early age is your child's first savings account. 
Just because kids don't earn a salary, pay bills or file taxes doesn't mean they're not interested in learning about money. Don't wait too long to reinforce the importance of personal financial responsibility. By late elementary school, your child's developing mind is grasping the concepts of earning, saving and spending.
Rowe Price's 2020 Parents, Kids & Money Survey offers some insights into how kids ages eight to 14 are learning about money at home and whether they're actively saving. About half of children in the households surveyed had a savings account, and 41% had a piggy bank. One in five had a checking account. More than 70% said they decided how to spend their money, and 40% were in charge of saving decisions. 
Opening your child's first savings account is the perfect opportunity to graduate your kids from piggy banks to a more grown-up approach to money. A savings account will set the stage for ongoing conversations and allow them to learn firsthand about the consequences of their financial decisions.
So what is the right age to open a kids bank account? And what type of account should you choose when the time arrives? There's no hard-and-fast rule, but here are some tips to help you make the best decision for your child. 
Your child might be ready for a savings account sooner than you think.
Many financial experts and money coaches recommend savings accounts for teens, but don't wait if your child shows interest sooner. If your child is earning an allowance at six or seven, a savings account may be appropriate by the time they're nine or 10. The Consumer Financial Protection Bureau also recommends opening an account for your middle schooler. 
Our best advice: cue off your kiddo. If they're asking how they can earn more or developing a habit of immediately spending whatever's in their piggy bank or pocket, it's probably time to teach them the virtues of saving. Depositing money in a bank account feels way more official—and secure—than stashing bills in an envelope with "savings" scrawled on the front.
Introducing the notion of a bank account adds another important dimension to your child's understanding of financial responsibility. Simply put, there's more to money than spending. Saving not only teaches discipline and preparedness; it can instill a sense of pride.
A savings account signifies accumulation, and an interest-bearing account really ups the ante. Your child's eyes are sure to widen when you tell them that banks will reward them for saving. Seize the moment and show them exactly how it works with a savings calculator. 
Opening your child's first savings account is a big deal, so make it feel special. Have them count up their cash and coins before heading to the bank. After the account is set up, celebrate the accomplishment however you like. Did someone say ice cream?
What type of account should I open for my child?
Minors can't lawfully open a bank account, so parents play a vital role in this coming-of-age ritual. And it's up to Mom or Dad whether to open a custodial or joint account.
A custodial account is in the child's name but managed by the parent or guardian until the child turns 18. At that time, he or she takes ownership and can continue to grow the account, make withdrawals or transfer funds. 
Joint accounts give you and your child equal access, but you'll have the ability to supervise activity or set limits. These accounts are typically better for preteens or teenagers who may have a job and want more control over their finances.
Once you've settled on the type of account, here's what you'll need to actually open the account: 
Your child's identification

– A photo I.D. always works, but if they don't yet have one, most banks will accept your child's birth certificate, Social Security card or passport.

Your identification

– You'll also want to make sure you have a photo I.D. such as your driver's license or passport. You can also use your Social Security card, and some banks may require proof of residence, such as a utility bill addressed in your name.

The first deposit

– You can't open a savings account without…well…savings. Most banks only require a small deposit—

just $5

at Community Point Bank—in the form of cash, check or money order.
What does the research say about kids saving accounts?
A number of studies about kids bank accounts have documented some positive outcomes that could seal the deal if you're on the fence. 
Sadly, a 2015 international study revealed about one in five teenage U.S. students aren't proficient in basic financial literacy concepts. However, 15-year-olds who had a bank account scored higher on average than those who didn't. Account holders were also more likely to earn money from a part-time job and regularly talk about money with their parents.
A decade's worth of studies on the link between child savings and educational outcomes found that kids who saved performed better in math and were more likely to attend college. There's also mounting evidence that children with savings accounts in their names evolve into financially literate young adults. Specifically, they're more likely to remain connected to mainstream financial institutions, diversify their asset portfolio and continue saving. 
Ready to lay the groundwork for a lifetime of good financial habits? Contact Community Point Bank today to set up an appointment to open your child's first savings account. We can't wait to celebrate this maturity milestone with you!